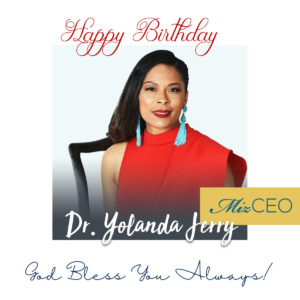 Dr. Yolanda Jerry is a retired Air Force veteran, speaker, author, coach, and entrepreneur. She impacts many around the world with her passionate, bold and fierce approach to living life. Individuals and organizations have been impacted by her powerful, relevant and relatable messages as she advocates for truth, healing, resiliency and empowering growth. She coaches, inspires and empowers victims/survivors of domestic violence, sexual assault and youth bullying. She shares her story as a sexual assault and domestic violence survivor and what it takes to no longer be a victim but a Victor! Dr. Jerry empowers her audience to embrace their past and grow to their next level, personally and professionally. Men and women who have been positively impacted by Dr. Jerry's content are more empowered to create the best version of themselves and become intentional in their life's purpose and execution of their goals.
Dr. Jerry is the Founder/CEO of YJ Empowerment Solutions, LLC. She is the Business Manager for iRunMS Entertainment, LLC and also a Research Specialist with the University of Virginia. She's a contributing author in four empowering and informative books titled; When a Woman's Fed Up: A collaborative book by Overcomers of Domestic Violence; What is a Courageous Woman; The MizCEO Book: For female entrepreneurs by female entrepreneurs and Letters to Our Daughter's: An empowering book for young girls. She's been featured in the Huffington Post, Chicago Now, Sheen Magazine, on the cover Glambitious Magazine, MizCEO Entrepreneurial Magazine and Courageous Magazine. Dr. Jerry has been a speaker for Air Force and Navy military installations, Girls Scouts of America, The MizCEO Entrepreneurial Conference, various Non-Profit Organizational events, high schools, youth groups, and churches.
Dr. Jerry was awarded many major awards and accolades during her 20 years in the Air Force. She served as a Certified Sexual Assault Victim Advocate for 9 years when she was active duty. She earned her Associate of Applied Science Degree, Logistics in 2008 and Associate of Applied Science Degree, Education and Training in 2012 at the Community College of the Air Force and received her Honorary Doctorate of Philosophy Degree and a Humanitarian Award from Trinity International University of Ambassadors in 2018. She is also the recipient of the 2018 MizCEO Authorpreneur of the Year Award.
Dr. Jerry is a member of W.I.S.H. (Women Inspiring Sisters Hearts) and also a soror of Alpha Gamma Xi Military Sorority, Inc. She resides on the Mississippi Gulf Coast with her family.
For more Information and Booking Inquiries visit her website iamyolandajerry.com