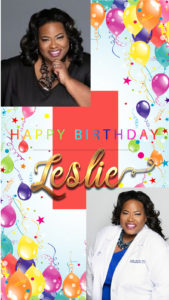 As a pharmacist, entrepreneur, speaker, author, certified coach, and magazine contributor, Dr. Leslie Hodge creatively pairs her passion for people with her commitment to serving others. As a highly sought-after resource for information, Dr. Hodge selflessly equips, enhances, and empowers the lives of people from all walks of life.
Dr. Hodge was reared in a Christian household that promoted education and service. Throughout her life, she remained mindful of the biblical passage:" I can do all things through Christ that strengthens me." Leslie Hodge, PharmD, RPh successfully earned her Doctor of Pharmacy Degree (PharmD) from Purdue University. She also holds American Pharmacists Association (APhA) certifications in Pharmacy-Based Immunization Delivery and Delivering Medication Therapy Management Services.
For over 14 years, Dr. Hodge has helped others daily as a practicing Pharmacist and Pharmacy Manager with a national retail pharmacy chain. With a spirit of excellence and a heart for people, her professional success is enhanced by community service involvement locally and internationally.
Dr. Hodge's service record includes the implementation of local community events for the national "Know Your Medicine-Know Your Pharmacist" health initiative, organizer of Ask-A Pharmacist for annual community back-to-school health fairs, as well as accompanying local high school students to Swaziland, where she served as the coordinating pharmacist during a Seeds of Hope Outreach Tour. At the end of serving as the pharmacy cohort leader for an area high school, Dr. Hodge founded The Reflections (Do You See What I See) Program, a community Christian based program, developed to promote the discovery and enhancement of positive self-esteem, self-image, and self-awareness of girls ages 14- 18.
Dr. Hodge's commitment to inspiring others and positively impacting the Indianapolis community, was recognized with a YWCA Phyllis Wheatley Woman of The Year nomination, as well as being named the recipient of The Ford Freedom Unsung Hero Award for Education. Operating in her commitment to service and being a resource for patients and families to better manage their medications and improve their health, Dr. Hodge founded Scripts & Beyond, LLC – A Pharmacist Focused On YOU™. Scripts & Beyond is a medication review and consulting company which specializes in providing one-on-one medication therapy management services. The personalized services are provided by pharmacists, who use their clinical expertise to review the current medication regimen, recommend medication alternatives and lifestyle changes and help create a plan to achieve optimal health outcomes, for each patient.